Events
Saturday, August 19, 2017
6-9 p.m.
American Writers Museum, 180 N. Michigan Ave., 2nd Floor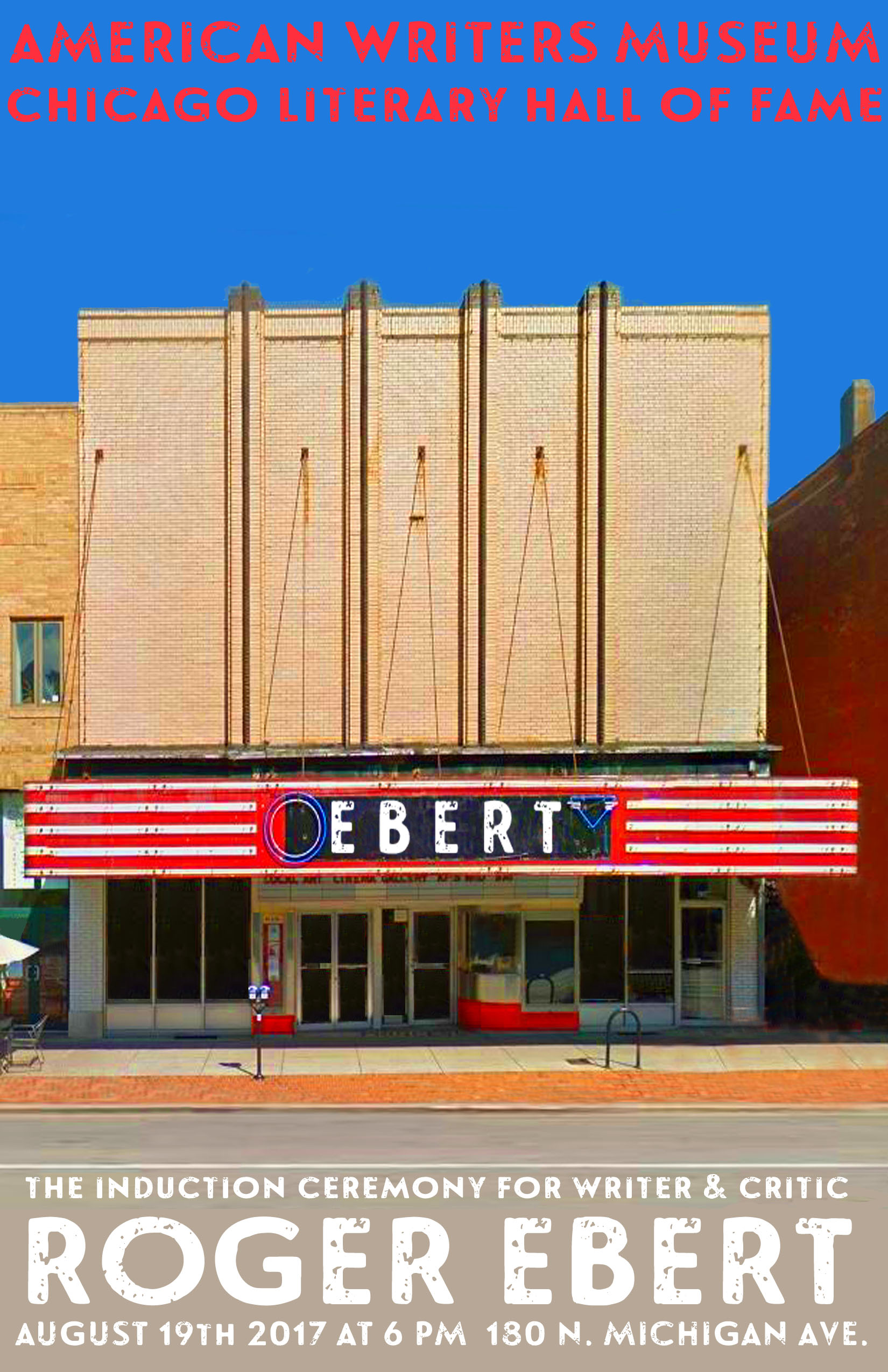 At the Typewriter
Ebert Joins Chicago's Finest Authors
When I write, I fall into the zone many writers, painters, musicians, athletes, and craftsmen of all sorts seem to share: In doing something I enjoy and am expert at, deliberate thought falls aside and it is all just THERE. I think of the next word no more than the composer thinks of the next note. from Life Itself
Beloved film critic Roger Ebert will be inducted into the Chicago Literary Hall of Fame on Aug. 19 at the American Writers Museum (180 N. Michigan Ave., second floor). Reception begins at 6 p.m., with the ceremony starting at seven. A score of old colleagues and friends will give tribute to Ebert as part of his induction into the CLHOF's seventh class, including Pamela Sherrod Anderson, Milos Stehlik, Laura Emerick, Bruce Elliott, Steve James, Rashada Dawan, Kevin Pollack, and Richard Roeper. Rick Kogan will emcee the ceremony, and Ebert's widow, Chaz, will accept the statue. Advance registration required.
A film critic for the Chicago Sun Times from 1967 until his death, Ebert was the first film critic to win the Pulitzer Prize for Criticism. Ebert and Chicago Tribune critic Gene Siskel helped popularize nationally televised film reviewing when they co-hosted the PBS show Sneak Previews, followed by several variously named At the Movies programs.
But above all else, Ebert was a writer. He wrote more books than any TV personality since Steve Allen — 17 in all. Not only collections of reviews, both good and bad, and critiques of great movies, but humorous glossaries and even a novel, Behind the Phantom's Mask, that was serialized in the Sun-Times. In 2011, his autobiography, Life Itself, won rave reviews. "This is the best thing Mr. Ebert has ever written," Janet Maslin wrote in the New York Times.
In 2005, Ebert became the first film critic to receive a star on the Hollywood Walk of Fame. Tom Van Riper of Forbes described him as "the most powerful pundit in America," and Kenneth Turan of the Los Angeles Times called him "the best known film critic in America."
The Aug. 19 induction ceremony will celebrate and reflect upon Ebert as one of our finest ever Chicago writers. Ebert was selected as part of a class that includes Margaret Ayer Barnes, Fanny Butcher, Eugene Field, Fenton Johnson, and Ring Lardner. Inductees are chosen through a rigorous nomination and selection process in which Chicago's finest historical authors are considered.
Tickets will be issued through the American Writers Museum website, and limited to the first 100 guests.
Co-sponsored by the American Writers Museum and the Chicago Literary Hall of Fame. Contact Don Evans (dgevans@chicagoliteraryhof.org) for more details.
---
Back to Events
---