Donate to the Chicago Literary Hall of Fame today!
Dear Friends,
Don't let the name of our organization fool you. Although one of the signature initiatives of the Chicago Literary Hall of Fame (CLHOF) is to celebrate the city's rich literary legacy by inducting past writers into the Hall of Fame, it's not all we do. We also develop programming, events, and awards to honor Chicago's living writers and to help foster new and emerging voices.
Earlier in the year, in collaboration with our good friends at After Hours Press and Third World Press Foundation, the CLHOF launched Wherever I'm At, a poetry anthology that features more than 150 Chicago poets and artists, an astounding project led by our founding executive director Don Evans. Our hope is that Wherever I'm At. arguably the richest anthology of living poets extends the reach of the voices represented within and finds its way into classrooms, libraries, and bookstores across the city, state, and beyond. If you don't yet have a copy, order one today! Read more…
Chicago Literary Hall of Fame Fundraiser Party
Join the Chicago Literary Hall of Fame for its end of the year Fundraiser Party on Saturday, December 3 from 2:00 to 4:00 p.m. at Roscoe Village's Beat Kitchen, "home to every genre of music, hosting some of the biggest names in live music & comedy." Registration is now open.
The Fundraiser Party is a perfect opportunity to celebrate the season while supporting an organization that organizes events and programming to honor, preserve, and celebrate Chicago's great literary heritage, as well as to help foster new voices.
There will be light appetizers, a cash bar, lots of mingling and throughout the afternoon, there will be chances to win prizes. At 3 p.m., there will be a LIVE AUCTION hosted by Nelson Algren Award winner for fiction and friend of the CLHOF billy lombardo.
Leading up to the event, the CLHOF will open an ONLINE SILENT AUCTION. Stay tuned for more information.
If you would like to make a direct donation, you can do so here.
Many thanks for your support and we hope to see you at the party! Registration is $15 and require.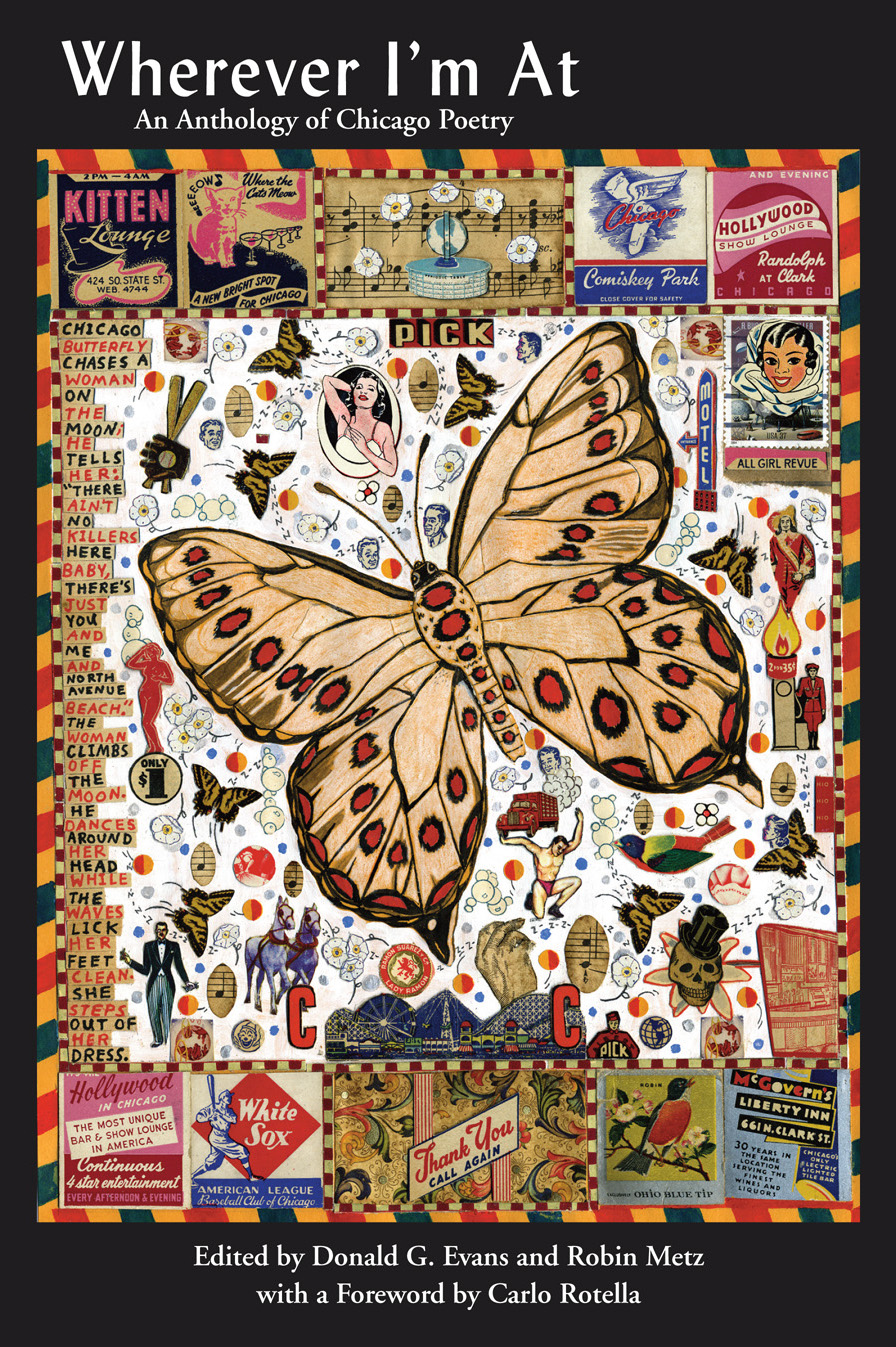 Wherever I'm At: An Anthology of Chicago Poetry, Chicago Literary Hall of Fame's first major publication, launched on Monday, June 13, 2022. The collection features outstanding work produced by more than 150 poets and artists, telling a story of Chicago not found in the guidebooks. Events celebrating the book will be announced here: you can order Wherever I'm At now.
Thursday, September 15, 2022 — The Writer Shed A LITERARY HALL OF FAME David W. Berner. "Chicago has a Literary Hall of Fame. Why? What's its purpose? Why is this important? The founder of the Chicago Literary Hall of Fame, Donald Evans has the answers to these questions and they are far deeper than simply honoring great writers." Listen now
Thursday, September 1, 2022 — Cultural Daily John Brantingham Reviews Wherever I'm At: An Anthology of Chicago Poetry. "…my guess is that anyone who has lived in a big city as I have will understand the complication of these poems and the beauty in them as well. This is an exceptional anthology, and not just for the residents of this one town." Read more